Benefits to Your Business
Benefits to Your Business
Quality
Quality for students means they will learn and progress well, and that they will be looked after in a welcoming and stimulating environment. IH member schools can use their affiliation to the well-respected IH brand to demonstrate their commitment to quality, which can mean higher student enrolments and less problems recruiting and keeping staff. 
International House quality standards are based around the IH Client and IH Staff Promises, succinct and customer focused documents that explain how IH schools help students achieve their learning goals. In 2020, we introduced our IH Online Promise, outlining what IH schools are committed to doing to give their students a successful, engaging and enjoyable online experience.
We regularly inspect schools and give them detailed reports with lots of suggestions to improve quality and operations.
For more details about how we ensure IH schools keep improving their quality, see here. 
International brand
Being part of an international network with a unified branding will help you stand out from your competition. International House currently has more than 130 affiliated language schools in 50 countries.
Every International House school benefits from the prestige of belonging to a strong global organisation, which can be a real asset to differentiate them from local rival schools. 
Environmental Sustainability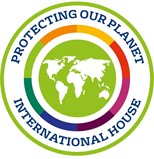 We are ambitious that all IH schools will take positive actions to safeguard our planet, and minimise the negative impacts we have on our environment. By completing the IH Environmental Sustainability Review, you will receive a badge that you can display on your website and relevant communications to show your commitment to protecting our planet. 
As part of our Environmental Sustainability plan, we started the IH Young Environmentalists Project, bringing together students from around the IH network to collaborate on creating classroom materials to raise awareness of environmental issues. Read more about the project here.
A network of business professionals
Through conferences and events, inspections, e-mail or phone, or forums, directors of IH schools have the opportunity to share ideas and improve their business. If you have ever felt isolated or alone as a school owner, this is a huge benefit.  
Joining IH for us was life changing – there was a before IH and an after IH. The absolute best part is belonging to the IH family, after being alone in the business for 10 years it was lovely to have some siblings to learn from and share with. The conferences are wonderful!
Valerie Watson, Director IH Lima
Read about the 2023 IH Directors' Conference - London
Read about the 2022 IH Directors' Conference - Madrid
Read about the 2020 IH Directors' Conference - Online >>
Read about the 2019 IH Directors' Conference in Catania >>
Academic conferences and professional development opportunities 
IH helped to create the modern standards for teacher training in language education by launching the IH Certificate in Teaching of English to Adults in 1962. This ground breaking course incorporated teaching practice and became a standard for language teachers. It has now become the widely recognised CELTA.
IH continues to innovate in developing teachers of all languages, whether this is through our academic conferences, professional development opportunities, or training courses. Conference highlights for academic staff are the Academic Managers and Trainers (AMT) Conference, the YL Conference, and our many online workshops. Staff can access all of our previous conference recordings and resources in the IH Members Area on this site.
IH schools also have access to a series of online training materials related to the customer journey, safer recruitment and safeguarding.