IH Lviv is celebrating its 25th anniversary and to mark the occasion we interviewed School Director Marianna Ilyina to learn more about her amazing journey. She tells us how she has never thought about opening a school in the first place and how important it is to care about people in this business. 
What inspired you to open a school?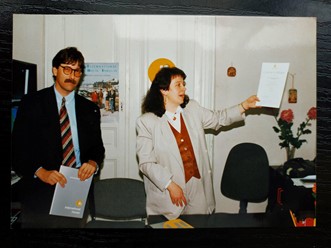 I was not going to open any school. I worked at the Lviv University English Department, loved my work and my students and was quite happy where I was. Once in November 1993 the branch director of the Soros Foundation (officially The International Renaissance Foundation) called me. "We are running a competition for the position of the director of a language school, but they want us to increase the pool of participants. Could you please come and bring your CV?" 
I had heard about that project. Quite interesting, but not my cup of tea.
So there I was, the last person to come. There were several people in the selection committee. Their questions, then mine. I was absolutely relaxed, I didn't need the job, I was just increasing a pool of participants.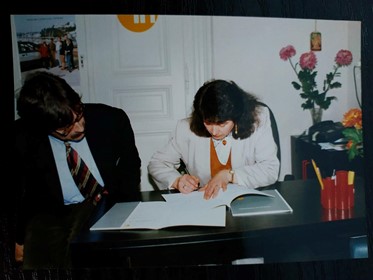 A couple of weeks later, I got a call from Kyiv and the person calling started to congratulate me on something. At first I thought it was someone's practical joke (by that time I had completely forgotten about the competition). But then I remembered.
Oops.
And then I thought: for the two previous years so many things had changed in my country and in my life. Why not change the job and start something from scratch?
So I did. And it changed my life completely.
What is interesting about how your business was founded? 
We have two founders, so to speak.     
In his "Adventures of a Language Traveller", John Haycraft tells us about his meeting with George Soros, who offered John the job of looking after English teaching in Eastern Europe, and John agreed.
"It went on for three years, with "flying" teachers, teachers' courses, and new English language schools in Kiev, Lviv and Timisoara, in Minsk, Kaunas, Vilnius and Tallinn…", wrote John.
I never met George Soros, though he visited my school in May 1995, but I was at the Directors' Conference in London. But in June 1993 I met John Haycraft for the first time, as he came to Lviv to start the English language school project. I was invited as the head of the English department to the meeting with him as we had some experience of working with foreign teachers.
Thus, the "financial" founder of my school was George Soros, and the"spiritual" founder was John Haycraft, the founder of International House.
What is unique about your school?
Apart from the fact that we have the best staff and the best students in the world, I don't think there's anything unique about our school! 
Maybe, (A) 1:1 and 1:2 Skype classes that we have been giving for more than five years. Some classes are run by our former teachers who now live in other countries (England, Canada, Ecuador) and whose time zones satisfy the demand for the time of classes better. We offer English, Exam Preparation, Preparation to Interviews, Listening Comprehension, and (B) Grammar, Pronunciation, and Listening Boosters.
Words of wisdom: what would you say to somebody who wanted to join IH?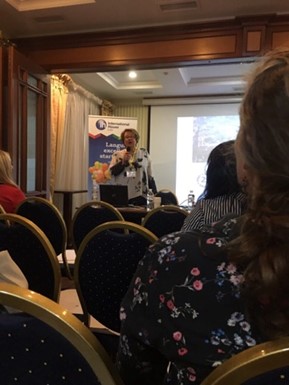 Do it! IHWO are a great family with huge experience. Friendly, caring, and sharing.  
What is the most important lesson that you have learnt in 25 years in this business?
This business is all about people. If you really care about them, your business works. If you don't, it doesn't.
As you see, I am still much more an educationalist than a business person.