We are delighted to welcome our sixth affiliate this year, Verein für berufliche Weiterbildung e.V. which has affiliated to International House World Organisation as International House Hamburg.
Verein – IH Hamburg is a private, non-profit organisation founded in 1998 by its Managing Director, Ludolf Schnittger. At the beginning, the school had only two classrooms and offered English and computer courses, but now they offer courses in eight languages, as well as several courses in Business English.
The school has gone from strength to strength over the years, and they have now moved into their current premises with eight classrooms and a student lounge. Verein – IH Hamburg also teach foreign languages in five other parts of Hamburg where they use classrooms in public schools. For their clients, they have a lounge with a conservatory and a terrace, and they regularly organise social events and 'edutainment' experiences, such as cultural presentations of the teachers' home towns or countries, theatre performances, guided city tours, and wine and whisky tastings. Their students are adults from all fields of life and they come from all parts of Hamburg and its suburbs.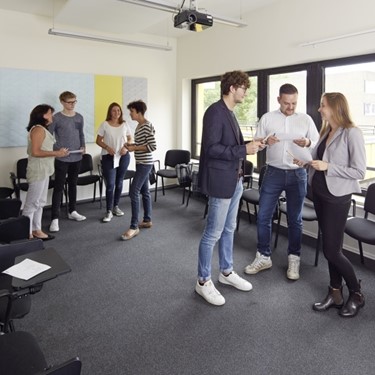 The school is located in City Nord in central Hamburg, a business park and residential area easily accessible by various bus and train lines. They are very close to Hamburg's biggest park, Stadtpark.
Hamburg is located in the north of Germany with a population of approx. 1.8 million and it is the second largest port in the EU. It has a long history reaching back to the Middle Ages. Hamburg is characterised by its beautiful canals; it is a very green city with a variety of pleasant parks.
Because of the strong ties to overseas countries, both commercially and culturally, knowledge of English and other foreign languages is important in professional life, hence the high demand for language courses. This demand is widely recognised and is the reason for more than 100 language schools offering English in the city.
Why did you decide to join IHWO?
"Because we wanted to belong to the best! We were able to raise our quality levels by the tremendous support we received from all the IH staff and their competent teacher trainers. IH has established the contact to the right people!" – Ludolf Schnittger, Founder and Managing Director of Verein für berufliche Weiterbildung e.V. – IH Hamburg.
"As a network, International House is always open to new and innovative ways of providing a great client experience. In Verein – IH Hamburg we have found an affiliate that is committed to quality and excellent teaching with a fresh perspective on the traditional language school model. We already know Ludolf and his team quite well from the teacher training we have done together and it is fantastic that they will now be part of the IH family." – Lucy Horsefield, COO, IH World Organisation