For the second year running International House Braga students took part in a five-day volunteer project during Holy Week to help tourists visiting Braga by providing them with practical information about what to visit in the town. Braga recently came in second place in the "European Best Destination" competition and so its famous Holy Week celebrations were expected to be even more popular than in previous years.
Once again the volunteers received training in communication skills and local history. IH Braga also provided training sessions with a focus on practical language such as giving directions and describing Easter traditions and local cuisine.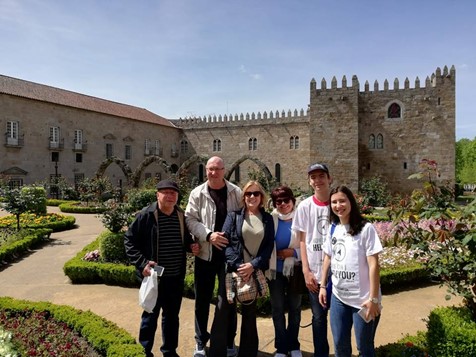 This was the second year of the project, meaning that it was bigger and better! This year they had 75 volunteers who completed about 1000 hours of volunteer work and helped approximately 3500 tourists from 20 different countries. As well as a Facebook page and an Instagram page, there was also a website (howcanihelpyou.eu) with lots of useful information and a gallery of photos.
The project was coordinated by Creative Zone and IH Braga, and supported by the local Tourism office that provided training, pamphlets, t-shirts and caps. This year the local Commercial Association also enlisted the support of local cafés which provided snacks for the volunteers. A well-fed volunteer is a happy volunteer!
Once again the project attracted a lot of interest from the media both at a local level and at a national level. All the major TV channels interviewed the volunteers and included a story about the project in their news programmes.
"As a school IH Braga was extremely proud of the cheerful and helpful attitude of its students, and Sílvia Correia, an ex-IH Braga student who had the original idea for the project, said they had been great ambassadors for the town and had shown what a warm, welcoming place Braga is," said Janet Sinclair, Director of IH Braga. "All the volunteers said they would like to take part in the project again in the future and felt that they had enjoyed learning more about their home town and being part of a project that helped to improve it.
"Most importantly of all, feedback from tourists visiting Braga was overwhelmingly positive with many of them commenting that our volunteers had made their visit to Braga a very special one."