With the dawn of a new school year appearing on the horizon, if you are a teacher or in the industry of teaching, you may be thinking about your own professional development and ways to find a new challenge or advance in your career. It can be difficult to fit this around your work and other commitments, but with the IH Online Teacher Training Institute (OTTI), learning becomes easier as you manage your timetable flexibly and are able to seek advice from experienced tutors.
In the first of a series of interviews with people who have taken more than one course with OTTI, Sarah Leek, an English teacher in Germany, tells us why she decided to take three different courses with OTTI and how it has helped take her in a new direction in her career.
Which courses did you study with the Online Teacher Training Institute?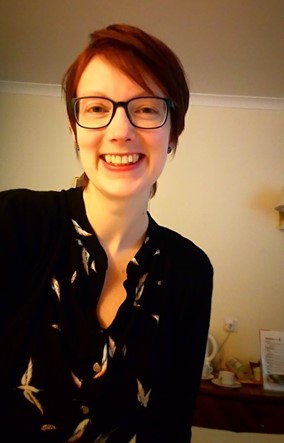 I've taken three courses with the IH OTTI so far: the Director of Studies Course (Feb-May 2017), the Teacher Trainer Certificate (Feb-May 2018) and the Action Research Course (May-June 2018).
Why did you decide to take the courses with International House's OTTI?
Professional development has always really motivated me and is something I've invested in heavily throughout my career. I firmly believe that good teachers never stop learning and acquiring new skills, and after completing Delta in 2014, I was keen to maintain the momentum and explore opportunities outside of the classroom, such as education management and teacher training.
In addition, I was looking for a reputable course provider offering a flexible and practical way to learn something new alongside my job. I also wanted to network with other teachers from similar and completely different contexts and hoped that the courses would open professional doors for me. They did!
How did you find the process of learning and being taught online?
I absolutely loved it! I'd already done The Distance Delta and several other short-term online courses before I started the DoS course, so I knew that distance learning suited me really well and would easily fit in around work. I'm definitely a 'little and often' student – I set aside time each day when learning online and this definitely works for me.
On a professional level, participants on OTTI courses are really well supported by experienced tutors who provide detailed feedback on assessed tasks and fascinating insights into their areas of expertise. The courses were all clearly structured, too, so I knew what to expect in each module, and I could select my personal areas of focus in an initial action plan. I was also able to track my learning and progress throughout the course and create a post-course action plan as part of the final assignment.
What I particularly enjoyed about the OTTI courses was the networking aspect. You get to know fellow course participants from all over the world, which opens your eyes to contexts, countries and cultures that you might otherwise never have encountered. Through the café in the OTTI Common Room, it's also possible to communicate across courses which are running at the same time. I was able to offer advice to participants who were starting courses I'd already completed and vice versa.
How did you find the course content?
All three courses contained a fantastic blend of theory, discussion and practical application through forum posts, set reading and portfolio tasks. I learnt a great deal from the course reading and feedback on my work from tutors and fellow participants. Quite unexpectedly, I also discovered new ways of working with Moodle. On the ARC in particular, forum tasks were very interactive and varied, which gave me some great ideas for what might motivate my own students in an online learning environment.
The portfolio tasks on the DoS and TT courses were really useful due to their practical nature, and I was able to apply them directly to my context. For example, for my portfolio tasks, I designed teacher training sessions for my department, a regional ELT event and a local language school. For the DoS course, I also created an induction programme for a new member of staff and put together a plan for managing a change in my context. On the ARC, I created an entire Action Research project cycle to investigate to what extent video assessment tools can aid learner motivation with longer listening tasks. I'm very eager to test this out in the next academic year!
How did you feel you benefitted from the experience? Did the course help you to proceed in your career?
I've developed skills that would only otherwise have been possible through actual experience, which can be a really steep learning curve and difficult to manage on top of everything else. For me personally, the courses I participated in have been of greater benefit than on-the-job experience as I now feel better prepared to take on a more challenging position and am more confident about dealing with what may lie ahead.
Career-wise, the courses have taken me in a new direction and led to me being offered a new position, which I'll be taking up in October. I'll be combining teaching, teacher training & development, management and materials design - basically all of the areas I've been working on with IH over the last 18 months, which is very exciting!
Would you recommend the OTTI to a friend or colleague? 
Definitely! There are courses for teachers of all levels of experience and in all kinds of contexts. You can study as much as you like, when you like and receive valuable feedback on your work from qualified and experienced tutors. It's also a fantastic opportunity to network with teachers all over the world and can open doors professionally - it certainly has in my case. I'm going to take a bit of a breather while I get settled in at the new place, but I'm still hoping to take the COLT and VYL courses in the near future…
Sarah has been teaching English in Germany for the last 10 years. She has worked mainly for private language schools and universities as a teacher of general, business and technical English, and she has also trained teachers in-house and at regional and international ELT events. She is about to embark upon an exciting new adventure in education management thanks to the courses she has completed with IH OTTI!