IH World Foundation Environmental Award Activity Update
"It proved to be a powerful reminder that collective efforts can have an impact on environmental conservation."
Six IH schools across Australia have been awarded the IH World Foundation award for their environmental projects.
IH Darwin Initiative- Created a Sustainability Garden
As part of the International House World Organisation Foundation Environmental Award, IH Darwin has recently undertaken a wonderful initiative by planting a beautiful garden on their campus.
The amazing students and staff joined together to make this garden a reality. Together they planted capsicum, coriander, water spinach, pineapple, cherry tomato, jalapeno pepper, spring onion, and lemongrass. They also saved a special spot for marigolds in the green oasis. Acting as a natural pest repellent and improving soil health, they make for a perfect choice.
IH Bondi Initiative- Clean Up Bondi Beach Day!
The students and staff from the IH Bondi Campus spent a glorious winter morning at Bondi Beach for their 'Clean up Bondi Beach Day'. Thanks to International House World Organisation Foundation Environmental Award, they were filled with enthusiasm and a shared sense of responsibility for the environment. Together they cleaned up the rubbish along the beach and the promenade and international students learned about safety measures at the beach.
Armed with gloves, trash bags, and a determination to make a difference, the group ventured onto the sandy shores. Combing through the beach, diligently collecting plastic debris and other litter left behind while gaining an in-depth understanding of the safety precautions—it was a visit that went beyond a mere clean-up. It proved to be a powerful reminder that collective efforts can have an impact on environmental conservation.
IH Gold Coast Initiative – Recycling Awareness Week
On the Gold Coast campus, the team held a "Recycling Awareness Week". Students and staff were involved in collecting trash from the campus and then dividing it up into what is recyclable and what is not. Having the students complete this exercise activity made it easy for them to understand the difference between what can and cannot be recycled. There was a particular focus on beach and sun/surf safety. Everyone involved enjoyed this activity.
IH Sydney City Initiative – Recycling Education
Recently, IH Sydney City started training sessions for students in recycling as part of their project for the IH World Foundation Sustainability Award campaign. A learning session was created and uploaded onto their staff hub and LMS. They have now begun to incorporate these lessons into the classroom as an interactive activity. They teach students about recycling and the protocol at IH Sydney Training Services to be more sustainable. They then ask the students how they can help and discuss what is and what is not recyclable by using the recycle bins and the posters which clearly outline what goes into what bin. By educating the students and having more bins they will be able to ensure that they are all doing the right thing with their waste.
IH Melbourne Initiative – Plant beautification
IH Melbourne is going greener! As part of their sustainable initiative, they involved students in beautifying the campus with plants. The benefits of this are twofold as not only will the plants beautify the campus but they increase oxygen leaves and remove carbon dioxide. The students were involved in the process of choosing plants, buying them, putting them around the campus and then looking after the plants in the future.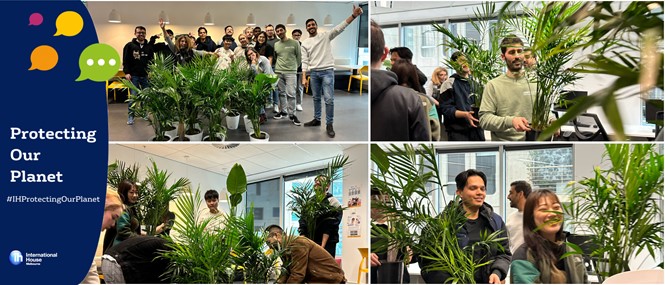 IH Byron Bay Initiative
IH Byron Bay already has a lot of sustainable processes in place and to add to this they have applied for funds to purchase a compost waste bin in which the students will be involved in collecting waste and using the bin. This has been implemented upon the return with the students learning about how waste can be used to add compost to living plants around the campus.
This 100% recycled plastic tumbler is perfect for the IH Byron Bay campus. They will have ready-to-use mulch in 4 weeks and rich compost in 6. The students will be able to add their waste and be involved in the barrel turning every few days to see results begin to show. This will be used in the surrounding garden areas to increase the richness of the soil.