IH Budapest has been awarded £200 by the IH World Foundation for their environmental project.
The IH World Foundation is supporting IH schools that are embarking on sustainable adventures with their students. 
During spring 2023, the school welcomed two trainee teachers from Eotvos Lorand University when the university could not offer them placement. IH Budapest's director, David Juhasz volunteered to accommodate them at the school.
In order to expand learners' knowledge, the two trainee teachers created a lesson based around composting. The goal was to provide learners with knowledge and first-hand experience on composting and to introduce the benefits and usefulness of the process. The composting lesson plan was used in YL classes.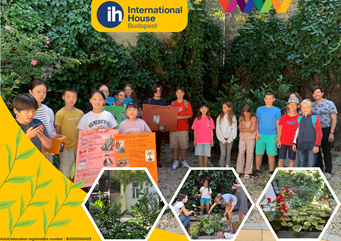 For one of their summer YL projects, students had to plan and design their own green playground. Through this project, students were able to see how their actions can have a long-lasting positive impact on the environment. 
The team at IH Budapest are very proud of this project and the outcome.