IH Rouen – French in Normandy have expanded their online French language offering to accommodate all students during Covid-19, and are adding elements of French food and culture – including cooking lessons and virtual excursions – to their programmes wherever possible.  Who knew that you would be able to integrate languages and culture by bringing it all to life online? 
The school had already started online Delf and Dalf preparation classes in 2019 to meet the needs of students who wanted to prepare for the French National Education Diplomas and weren't able to attend class physically.
"We were lucky in that when the lockdown happened, we already had an online offer which we have expanded to accompany all our students – either those with us, those who returned home, or our future students waiting to come," explains Eleri Maitland, Director at IH Rouen.
The school is now offering semi-intensive (mornings) and intensive (all day) group classes, as well as their one-to-one and specialised Delf/Dalf preparation course. Each of the online packages includes an initial Skype/Google Hangouts/Zoom/telephone oral test, while the grammar, listening and reading tests are already online. The material required for the online classes is also provided.
The online course offer also includes the cultural element to bring the French connection to life for students, with blog articles and Facebook posts about culture and cuisine. The history and traditions of the Normandy region, in which Rouen is located, are covered, as well as the places of interest that students would normally visit in-person as part of the social programme for excursions.
"In fact, our pre-test is also very interactive and shows films of the school, the beautiful city of Rouen and the region," says Eleri. "So we test the students' reading and listening skills, as well as grammar points." The pre-test can be accessed here.
"Every week, we are showcasing an excursion to a tourist attraction in Normandy, like the Mont St Michel or Monet's House and Gardens for virtual visits!"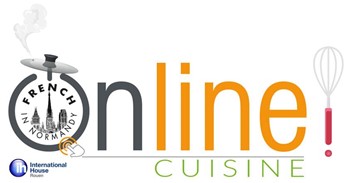 Students who want more of a culinary adventure can take the French and Cuisine online course, where they will study French in the morning and spend three afternoons per week discovering the regional cuisine of Normandy, as well as some French classic favourites, through cooking at home.
The French and Cuisine course starts on the first Monday of every month from July 2020.
For those who would like to start sampling some French dishes much sooner, Eleri has turned her kitchen into a cookery show for YouTube where she has been recreating some delicious French recipes. The videos to date show how to make: French onion soup, mayonnaise, vinaigrette, tarte à l'oignon, lemon chicken, and tarte tatin. Upcoming recipes include mousse au chocolat, gratin dauphinois, crepes, quiche Lorraine/Flamiche, and some Welsh recipes from Eleri's heritage, "as of course, I am Welsh, although I learned to cook aged 12 on my first full immersion in France," she adds.