French in Normandy – IH Rouen have expanded their online French language offering to accommodate all students during Covid-19, and are adding elements of French food and culture – including cooking lessons and virtual excursions – to their programmes.
The school is now offering semi-intensive (mornings) and intensive (all day) group classes, as well as their one-to-one and specialised Delf/Dalf preparation course all available online. Each of the online packages includes an initial Skype/Google Hangouts/Zoom/telephone oral test, while the grammar, listening and reading tests are already online. The material required for the online classes is also provided.
The online course offer also includes the cultural element to bring the French connection to life for students with cultural activities: on French culture and cuisine, the history and traditions of the Normandy region and lots more.
The school is located close to the modern city centre in a quiet and leafy area close to the Botanical Gardens. The pedestrianised historic city centre is a 12-minute bus or metro ride away.
Rouen is an ideal city to learn French in, offering students a truly authentic French learning experience. The language courses we offer include: General French (25, 15 or 10 hours per week); Business French; 30 plus courses; Exam Preparation Courses from A1-C2 Delf and Dalf; Teacher Training and Methodology Courses; French and leisure courses (French and Cooking).
Specialist Courses
Online Classes
40+ or 50+ Courses
Services
Social Programme
Transfers
Welfare Support
For other services please see school website
Accommodation
Homestay
Hotel or Apartment
The City
Rouen is the capital of the beautiful and historic region of Normandy. Just one hour from Paris by direct train, Rouen is easy to get to and ideal for shopping and sightseeing.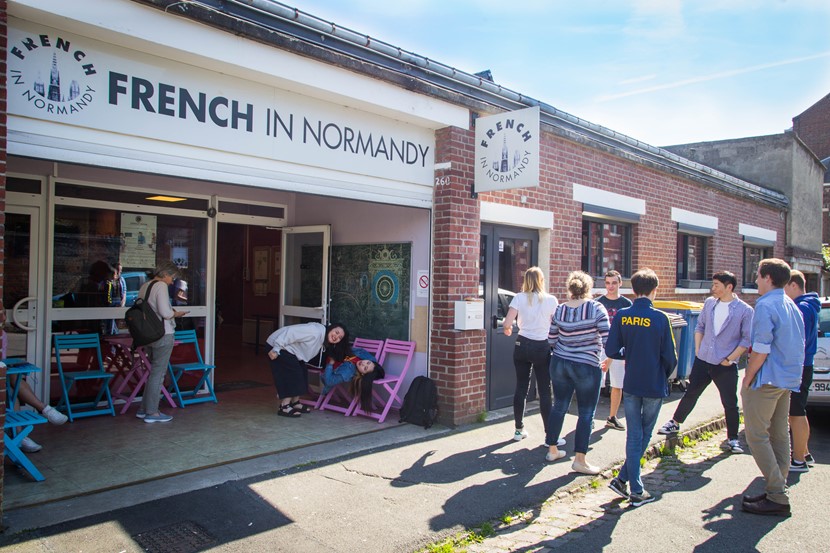 If you're a French language teacher, or you teach another subject in French and want to improve your French language skills, our French teacher training courses are perfect for you. A course in teacher training in France will provide you with an opportunity to develop your professional skills and to exchange with other teachers from around the world.
Our small group lessons will help you enrich your language skills and apply new educational methodology useful for learning and teaching French as a foreign language.
Participants in this programme will learn the newest teaching methods and approaches as well has have the opportunity to study both French language and culture.
These courses are for qualified teachers and use a communicative method to instruct both teaching methodology and techniques as well as French language and culture.
All teacher training course modules at French in Normandy are approved Erasmus+ training courses and are eligible for funding from Erasmus+. Participants not eligible for Erasmus+funding can take these courses as private direct-booking students, paying tuition directly to French in Normandy.
Location
Contact School
To contact IH Rouen please complete the form below: