International House World Foundation
International House World Foundation
The IH World Foundation aims to support the work of IH schools, or individuals with a connection to the IH network, in projects to:
advance language education
assist those in need due to youth, age, ill-health, disability, financial hardship, refugee status, etc, or
advance community development through the promotion of civic responsibility and good citizenship
Apply for a grant of £1000
in 2021, the IHW Foundation will be giving grants of £1,000 to IH schools to support charitable activities. For example:
You could collaborate with a local charity to provide free language training lessons for young learners
It would fund language lessons for people who have lost their jobs in the pandemic.
You could fund your students getting involved in any environmental project, for example renovating a local area.
It could fund teacher training for teachers working in volunteer teaching roles for charities.
The money could add to charitable education projects that schools already run
You could apply for scholarships to fund any students.
To apply, download the grant application form here <<download form>>
All applications must be submitted on this standard form. The application must demonstrate why there is a need and how the recipients(s) or community will benefit. After the project has been completed we will require a report describing the impact and success of the project.
Every application will be assessed to ensure that there is a definite benefit and positive impact.
Mail beccy.wigglesworth@ihworld.com for details. 
In 2021 we helped children in hospital in Palermo (Italy)  keep learning
The IHW Foundation was very pleased to support IH Palermo London School in their project to teach English (online) to a group of nine 12-15 year old students in hospital for prolonged stays for cancer treatment. The purpose of the project was to help the students keep up with their school work despite their illness, and provide them the opportunity to socialise with their peers in a context similar to ordinary school life. IH Palermo London school worked with a local association of parents with children affected by cancer and leukaemia (ASTLI), and the Ospedale Civico di Palermo.  
The course focused on the development of speaking and listening skills in a relaxed but productive context, with a significant objective of motivating them to keep up their studies and encouraging them to think positively about their future. Students studied from September 2021 to January 2022, and passed Trinity Exams in January.
The project was very successful, with excellent attendance. Students made good progress and reported they enjoyed their experience.
Indeed, feedback from parents and students was so enthusiastic, that this has been used as a case study pilot project to apply for Erasmus funding to extend nationally and internationally.
In 2021 we helped asylum seekers in Bristol (UK)
In 2021, IH Bristol committed to teaching English to 14 asylum seekers so they could pass a GESE exam. This was a 15 week course. Some funding from Trinity College London was extended by the IHW Foundation to extend the length of courses offered.
Students were at Beginners, Elementary and Pre-Intermediate level – some needing to learn the latin alphabet.  For the beginner students, the course focus was communication skills to enable them to live and integrate into a English speaking community. Higher level students should be able to take their learning further, for example to take OET programmes or go on to higher study.
Eight asylum seekers took the final exams, with two achieving a merit and two a pass.
One student is currently qualifying as an Arabic teacher, one was successfully offered a course at University and has started studying, one is studying A'levels, one found a job in Essex, one (a qualified dentist) is taking the exams to have his qualification recognised in the UK, one is seeking jobs in the aerospace industry, and three are looking for work.
Following the success of this programme, IH Bristol is trying to find space on its programmes for asylum seekers and refugees in Bristol, and working with other charities and agencies to seek funding where possible. There is more demand than ever for these courses.
In 2021 we supported teenagers in Catania (Italy) develop their leadership skills
The IHW Foundation gave a grant to IH Catania to support two students to take part in a "High impact teenage leaders" project, aimed at developing both their language and leadership competencies. They joined a group of seven students taking part in this innovative course.  It was led by English teacher and qualified coach Palmina La Rosa, also director of Giga IH Catania, and had financial support from two local entrepreneurs.  
At the start of the project the students completed a personal styles assessment, which provided insights into the students' attitudes and behaviours. This shaped input on a 15 hour online leadership programme designed to nurture their personal development.
Equipped with these new skills, the students worked together in a group on their outputs, such as an Instagram channel, and t-shirts, and a presentation of their overall experiences.
The timeline and outputs of the whole project are described in this report (click on the image to link to the report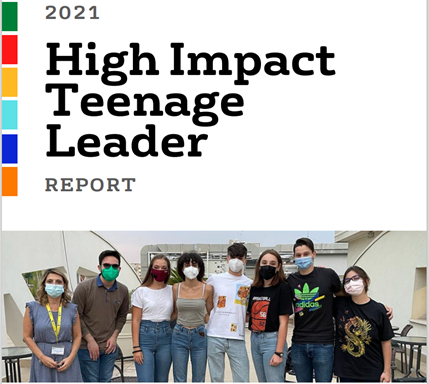 In 2019 we supported Children in Bangkok (Thailand)
In 2019 we were pleased to support a group of children in Bangkok with a reading and writing foundation course. This 90 hour course was specially designed by the DOS at IH Bangkok. 
All the students started as non-readers, not aware of the phonetic sounds of the English alphabet. In four carefully designed stages, the course took them through familiarity with the short vowel sounds in high frequency words to blending the sounds of consonants. 
It was a great success!
In 2019 we supported courses for displaced persons in Kharkiv (Ukraine)
The Foundation supported language classes for people who had been displaced because of the 2014 war in Ukraine. 
With support from the foundation, IH Kharkiv was able to offer 5 more students free courses in their school. This is an ongoing charitable activity for IH Kharkiv, and they have in total supported about 50 students since 2014.

Charitable Projects of IH schools
International House are proud of individual schools supporting good causes in their communities and which are of local importance to them. Although not supported directly by the IHW Foundation, these projects demonstrate social responsibility in action throughout the network around the world. 
IH Como Team Lingue's Charitable Christmas Project
in 2021 IH Como team Lingue collected 488 Christmas boxes, to be distributed to people in need. Read their story here 
IH Madrid's free classes worth about 15,000€ annually
IH Madrid has a long tradition of working with charitable causes to give something back to the local community, such as projects with a local hospital to provide facilities and gifts for young patients. One specific example is the scheme offering free places in extracurricular classes in schools. Read about this scheme here