Alibaba International Center was establlihsed in 2005 and got affiliated to International House in 2015 to prove its dedication to quality teaching, facilities and student care.
IH Amman is an established and well-known language school in Amman, with years of experience in providing language courses and teacher training programmes.International House Amman welcomes hundreds of language students from over 50 countries each year. Our students enjoy learning in the vibrant and multicultural atmosphere of IH Amman; making new friends and experiencing the excitement of the city together. So whether you'd like to study a modern language; learn English for business or pleasure, or teach English, we have the course for you. we strive to be the leading training organisation in our field by developing the strengths and skills of young adults.
We foster a learning environment which respects intellectual and cultural pluralism so our students are well-prepared to enter an international labor market. We aim to reinvest in our society by training young leaders who will be examples to their future communities, whatever their pursuit.
Specialist Courses
Online Classes
Corporate and Business Courses
Cambridge, IELTS or other Exam Preparation Courses
International House Amman/ Alibaba International Center is a leading institute in tecahing Arabic as a second/ foreign langugae. We cater to different needs by offering group classes as well as one-on-one for MSA (Fusha), Jordanian colloquial Arabic and Arabic for different purposes (politiocal and religious...etc). Naturally, Students need to take an online placement test and an oral interview before being placed into their coresponding level. upon arrival, students are places in accomodation that is 5 minute walk away from the center.
Our staff is highly skilled and trained to deal with students from different backgrounds, and to tailor the courses based on their individal needs.
We believe that the best way learn a language is cultural immersion that's why we provide our students with a unique experience where they participate in extensive conversations with the staff and students from other departments as well as giving them the apportunity to live in one of the busiest areas of Amman to be able to live the culture and not only study it.
Our program also includes 4 excursions to Jordan's most popular touristic attraction (Petra, Rum, Jerash and Ajloun, Amman Old Town). Additionally, students have the apportunity to take part in our social program that includes Arabic calligraphy classes, Oud classes, Henna and Middle Eastren cuisine banquet
International House Amman/ Alibaba International Center is located the beautiful capital of Jordan (Amman). Conveniently, we are located in the heart of the campus and university area of Amman which has recently been developed to accommodate the student lifestyle. Coffee shops, supermarkets and bookstores are all within a minutes walk of our center. Additionally, the area is well-connected to the rest of the city and surrounding cities by bus.
Specialist Courses
Online Classes
40+ or 50+ Courses
Services
Social Programme
For other services please see school website
The City
The unique mix of old and new is what makes Amman one of the most gorgeous cities in the world, where ancient ruins are surrounded by modern towering buildings in a fantastic harmony which shows the historical development Amman has witnessed.
Jordan, which is located in the heart of the Middle East, has adopted many cultures while maintaining its own historical traditions. This mixing has formed a society which is accustomed to welcoming guests from diverse cultural, and societal backgrounds.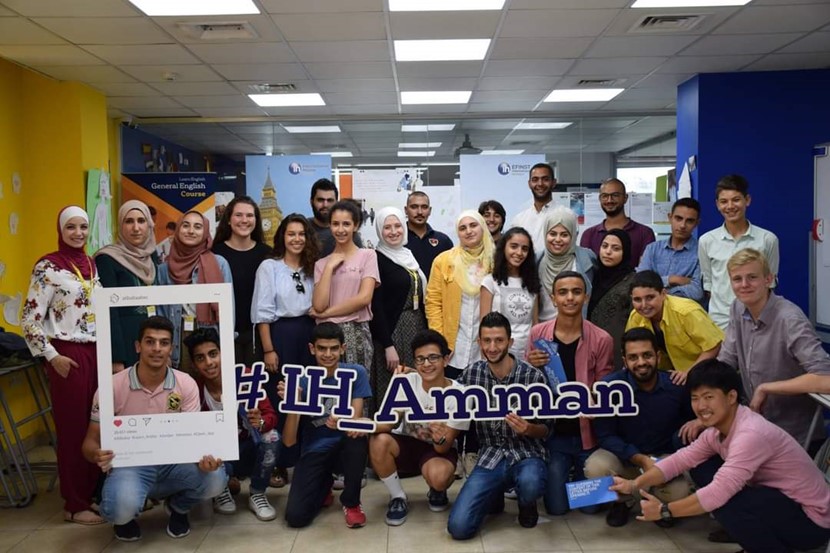 Testimonials
My experience at Alibaba was great, even more than I expected before coming here. I wanted good classes to improve my Arabic, but also opportunities to discover the country and its way of life. Alibaba offers everything of that, in a very warm atmosphere. I have been living with a Jordanian family (Dalia and Jawdat in Dabouk) and really felt at home with them. My room was very comfortable, and my family made everything possible to help me ( with transportation by exemple), and they took time to visit Amman with me. Dalia is a wonderful cook who made me taste Jordanian cuisine, every day different. I enjoyed a lot trying to talk Arabic with them, regretting not to be able yet to express more about my feelings and to thank them. Their four children are also adorable, and their cats too. At Alibaba, all the staff was very helpful, from front desk to cafeteria, always taking time for a little chat. The traditional meal was very good and allowed us to meet other students we didn't know yet. Last but not least, the trips with Qusai, to Amman, Madaba, Death Sea, Petra and Wadi Rum very well organized. Regarding classes, Wafa was a very good teacher, rigourous and patient even with semi debutant as I am. I wish I could stay longer because I am just beginning to improve my talking and it is already time to go. I loved my classes with Remi, a Japanese student. We were just the two of us with our teacher, and matched very well, our levels had been very well evaluated. As a conclusion, I would warmly recommend to register in Ali baba if you want to study Arabics in Jordan in a very professional and welcoming institute.

Faure Caroline
I had the pleasure to study one month with Fatima and one month with Dima, they were both amazing and really kind, patient and very professional. Fatima liked to focus on grammar and Dima made me speak a lot, which was very important to me. I improved so much in two months, I am very grateful for the support of my teachers who encouraged me a lot. I feel way more comfortable in Arabic now and I hope to keep that level and improve it . They were very patient with me, always allowing me to ask questions, to find my words and they would repeat everytime I ask for it, they are really good teachers and always showing interest and curiosity in my answers and presentations, I felt very good . The lessons are well organized, every week there is new vocabulary, new themes and new grammar. The test every two week was very important because it forced me to study in depth for the test. I think that the lessons were very well prepared, and it was logical, first some new vocabulary then we do the exercices then a little bit of homework then we speak about it and finally we hear a text and try to answer the questions. During these two months, I studied themes like culture, pollution, economy, names of arab countries, Human Rights, … I learned a lot of new vocabulary which helped me to express myself every day in Arabic, for example I can now speak very easily to anyone on the streets in Arabic, which I was not able to do before. The staff of Ali Baba is the friendliest. Everyone is so smiling, nice and always there to help. Ali makes the best drinks and the secretaries are always friendly and ready to answer any questions. I came back to Ali Baba because the people working here are amazing . The facilities are really good, I came to study for the whole afternoon or evening because there is quit zones, zones where you can chat with friends, very clean bathroom and always good snacks at the cafeteria.

Constantin Sophie
I had a very intensive week at the Alibaba International Center – but every second of it was worth it. I started at the very beginning with learning every letter separately. How it was written standing by itself, how it was being pronounced and how it looked like at the beginning, middle and ending of a word. It took us 4 days to get through the Arabic alphabet. Rawan was an excellent teacher. She had patience and explained the letters, vowels, and their pronunciation so that I could understand them very quickly. She could also adapt to our pace and was very good in summarizing everything that we had learned. I learned more in one week at the Alibaba International Center than in 9 lessons of Arabic in Germany. I have never expected such a high quality of teaching and can only recommend: Learn Arabic at the Alibaba International Center. The staff at the Alibaba International Center was more than polite and always around. You could ask them any question and they always helped you. I felt very welcome. The facilities at the center were up to date and there was nothing I was missing. Shukran for a wonderful time.

Vanessa Dai'
Being one of the leading language centers in Jordan, we took it upon ourselves to ensure that English learner can be taught by competent teachers as well as provide English tecahers with the neccessary skills and knowledge to thrive in the ESL field by being Jordnan's only CELTA provider. IH Amman started offering Online CELTA courses in 2020 and have have around 100 graduates since then form different countries in the region. We pride ourselves with our competetive quality and the unique support we provide our candidates with before. during and after the course.
Testimonials
I had an incredible experience in the CELTA course. The tutors were incredibly knowledgeable and supportive, providing valuable feedback throughout the course. The institution was top-notch and provided all the resources necessary for success. The course itself was challenging, but extremely rewarding. I highly recommend this program to anyone looking to become a teacher of English as a foreign language.

Robin Hashem
I feel delighted that I had the opportunity to take the CELTA course with International House as the process of signing up for it was smooth and organized, and the tutors were very professional, knowledgeable and supportive all the way through. I highly recommend those who are aiming for a rewarding English teaching career to take CELTA. The course was very beneficial as it tackled different aspects of teaching English as a second language.

Ruba Adawi
It was an experience I would not forget. the tutors were amazingly helpful and understanding, I'm glad I took it and it made a huge difference in my life as an English teacher, and it changed many teaching aspects we were following as English teachers, for the best.

Muna Mustafa
Location
Contact School
To contact IH Amman please complete the form below: