International House World Organisation is proud to announce its first new affiliate for 2021! Welcome to GoAcademy! Sprachschule Düsseldorf, now also International House Dusseldorf.
In this interview with Director Michael Rönitz, we find out more about the school and why they decided to join the IH family. 
How did it all start?
Established in 1990, GoAcademy! Sprachschule Düsseldorf started with the idea and focus on communicative language training in a warm and relaxed atmosphere.
Founded and developed by Catherine, my wife with French nationality and myself, German with cosmopolitan roots, it felt natural to built up an international school for all languages.
From the tiny but ambitious two classroom school, we moved up to become a leading international school with two buildings on a campus in central Düsseldorf and 25 classrooms.
But we kept the idea that language is always part of a culture and vice versa. The goal was and is to help people for a better understanding and at the long end a more peaceful life together.

Which types of courses do you offer?
We offer the whole range of languages and type of classes. Our private students come to intensive classes, long term evening classes, one to ones, small groups, online and hybrid training. The corporate classes are in-company or on-site and target to business related training and content.
During the years, English and German became the most popular languages. We concentrate on medical German for doctors and medical staff and on the pathway to German universities. For both we have specific and state recognised programmes including the final testing with certificates in TestDaF, TestAS, Telc, WiDaF, Toefl, Toeic and more as an officially recognised testing center.
Besides we have general German with complete service in housing, all-inclusive leisure time programme, summer camps for adolescents aged 14-to-7 in Düsseldorf, a summer university, and teacher training for Erasmus+.

Tell us  about Dusseldorf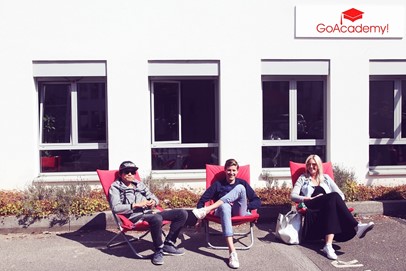 Düsseldorf is called the Paris of Germany and located in the western part. In ancient times ruled by the French it kept the nature and nonchalance of savoir vivre, joy of communication, open minded and friendliness to all foreigners. It's one of the international topspot cities in life quality index, and a a center of art, music, fashion and design. Besides that, it is the capital of North Rhine-Westphalia, the economical strongest state of Germany with focus on administration, universities, technology and international business start-ups.
And in summer you have the banks of the river Rhine with parties, bbq and all kinds of music festivals. Düsseldorf was the heart of German new wave "Neue Deutsche Welle" featuring bands like Kraftwerk, Tote Hosen, Mouse on Mars, and many more. As mentioned before a good and relaxed city with lots of parks to visit. Not too big and anonymous, but also not too small.
Why did you decide to join IH?
Our long term strategy is to improve and enjoy teaching and to develop quality in education. Therefore we designed our courses, trained our staff, became a testing institute in various fields, and joined internationally recognised organisations like the German FaDaF and FDSV, ALTO, and IALC.
But what we found always outstanding was the dedication to teacher training and the quality orientation in education with International House. I am sure our students will appreciate and enjoy the high educational standards in all languages and in all IH schools in the world
We also want to become one of the leading training institutes and developer of teacher training with CELTA, DELTA, and more.
What does it mean to you to have joined IH?
It means a lot for us having joined IH this year as the organisation focuses on quality language training, train the trainer seminars, and international cooperation. We believe that it is great to share, develop and cooperate in this rewarding field of life.
Education, communication and cooperation seems to me the best way leading to peaceful, sustainable and enjoyable future. Something we need now more than ever.
What lessons have you learnt during Covid-19?
During Covid-19, we had to switch from f2f to online training (we have done this before in the company sector), from online to hybrid training, from hybrid back to pure online this year and we are looking forward to coming back to school with our hybrid training sessions.
This is the year we had to learn to live with constant changes, to adjust, to find the best possible solution, to adjust and to re-adjust. But that's how we have developed best practices in hybrid training. The combination of face to face and at the same time online Zoom with your teacher and classmates. It demands a lot of skills, technological equipment, teacher training and team counselling. But it was worth the hard work, and with our integrated learning management platform, we have reached a new level of language training. This is just one way to cope with it, but there are others as well.
And I personally feel that this hard and challenging year brought me and a lot of us to realise our beliefs and core values. For me friendship, sharing and being thankful for life, health and living.
Thank you for this interview Michael Rönitz, Director of GoAcademy! Sprachschule Düsseldorf.