This year we travelled to Rome for the IH Young Learners Conference. Our hosts, IH Rome Accademia Britannica put on a spectacular event where, as well as delving into all things YL, we also got a real taste of Italy's capital city and the culture. A massive thank you to them for sharing their city with us, making us feel so at home and helping to organise such a great event.
It was another fantastic opportunity to come together, discuss and share new ideas, get feedback on projects we had all been working on and brainstorm future plans. We were grateful to have the support of excellent sponsors, thank you to our partner, guard.me international insurance. Thank you to our gold sponsors Trinity College London and Macmillan Education and our silver sponsors Cambridge University Press & Assessment, DELTA publishing, Pearson and National Geographic Learning.
We started the event on Thursday evening, with a walking tour. To orient ourselves (and make sure we saw some of the top sights!) we strolled through the streets of Rome and saw iconic landmarks such as the Colosseum, Palatine Hill and Circus Maximus. We rounded off the evening with aperitivi in the atmospheric wine bar/bistro Don Giovanni.

Day 1: Plenary Speakers
Day 1 of the conference kicked off in true YL conference style with a fun quiz presented by Giovanni, Jo and Natasha from IH Rome with many questions linking back to the wonderful walking tour from Thursday.
Monica Green, IHWO Executive Director, greeted everyone, shared updates and introduced our new Managing Director, Emma Hoyle, to those who hadn't met her in person yet. Monica went on to tell us about some of the interesting projects happening at IHWO and some of the upcoming ones (Protecting Our Planet sustainability videos and the Study for Life course). She encouraged us to get the most out of the conference by asking us to reflect on things that we could share and learn during the event.
The day of plenary speakers started with an inspirational presentation on creativity from Alan Marsh. Alan explained why creativity is so important for both students and teachers and the effect it has on students learning a language. He got everyone involved with his creative activities as we played his stress statues game and drew our favourite object then got a partner to imagine it was theirs and to describe it. After a few more activities, the audience left with their creative juices well and truly flowing! He did another presentation on Saturday on storytelling. This was yet another inspiring session that was very practical and included lots of involvement. We learnt how to tell a story and were entertained by Alan's 'the forgetful storyteller' and 'whistle dictation' activities.
Next, we heard from Lauren Nankivell, Head of Business Development English Language at Trinity College London, speaking about how to make assessments more inclusive by matching assessments to learners as opposed to a one-size fits all approach. Forms of assessment became a real theme in the conference with Caroline Chapman and Marina Scifo from IH San Sebastián sharing how they reevaluated their assessment processes to integrate a growth mindset on day 2.
Rachael Harris from DELTA publishing showed us all the importance of teaching journals. The session focused on using learning journals with teens and Rachael shared fascinating real examples to help us envision the beneficial results. She explained how journals enable students to produce authentic language, track their progress and deepen their thinking. We reflected on how these could be used to good effect in our classes.
Romina Pifferi from Macmillan then gave us an overview of some of Macmillan's materials specifically for young learners and teens. She was followed by Chris Roland (sponsored by Macmillan) who gave an engaging presentation on thinking about teens as people instead of an age bracket. What motivates them, what challenges them? He guided us with 20 + ideas for dealing with teens, and strategies to engage and interact with them. To use Chris' own term, the session encouraged us to look at teaching teens 'sideways' on. Chris did a second session on day 2 of the conference, this time focusing on YLs and he gave everyone lots of practical ideas to get them involved in the authentic use of language. Particular highlights of this session were his finger stories and the proposed strategy of letting students' questions drive the lesson.
Andrea Littlewood from IH Madrid did a session on how to make learning memorable. Andrea gave lots of practical suggestions for working with YL and VYLs, she had us chanting and reflecting and brought along some excellent inspirational examples of class books
Elly Setterfield (sponsored by National Geographic Learning) explored social and emotional learning.
This session was particularly inspirational and informative. Elly talked through SEL and how it would benefit our learners and she showed some practical applications of this in the classroom.
In the evening, everyone had a chance to mingle at the restaurant Casa Dante where we enjoyed drinks in the relaxed atmosphere followed by an informal dinner of Roman-style pizza.
Day 2: Engaging students, understanding YLs and teens and strategies to progress in today's world
Saturday was another full day of inspirational presentations, with speakers encouraging us to think outside the box and use a variety of strategies to teach young learners. There were two tracks with a range of sessions focusing on different age groups. It was a balanced mix of reflective and more practical sessions and lots of opportunities to share ideas with teachers, trainers and YL coordinators from many different schools across the IH network, all working in different contexts.
Our IH Young Learner Advisor, Xana de Nagy, presented four different storybooks that could be used in the YL classroom to promote inclusivity and considerate attitudes in your learners from an early age. In the session, we also explored teachers' and trainers' roles in dealing with these issues as well as a range of practical ideas that could be used when storytelling.
We then went on to explore innovative ways to engage the different young learner age groups. Diana from IH Torres Vedras shared a program called Fun in English which involves teaching state school young learners and engaging with them using activities like seasonal bingo, singing (we all got involved with this!), puzzles etc. Kate Sycheva explored how movement encourages learning with her motto "Move to think better" and how teachers can incorporate movement into lessons. We brainstormed ideas and everyone was up and moving to experiment. James
Egerton had us thinking about the before/during/after study periods and how we can make the most of this to help our teens. Building awareness of what our bodies go through in a typical day and raising our awareness of what is going on with teens and how they respond as they do in class.
Some sessions explored how important it is to make learning and teaching methodologies more appropriate to the lived experience. Milena Montalbano and Arianna Losa from IH Team Lingue showed us how they do this by integrating TED Talks into lessons. The idea of making learning relevant to YLs and teens in today's world was also incorporated into both Lucie Cotterill and Chiara Passantino's sessions. Chiara looked into how YLs and their learning have changed due to the pandemic. Lucie ran through relevant topics that YLs can engage with in today's world.
We touched upon the science of the mind with Diana Bauducco and Chloe Pakeman Schiavone's sessions. Diana Bauducco from IH London's session on Cognitive Load Theory presented how the theory is relevant to the classroom. She highlighted how important it is for teachers to be aware of Cognitive Load Theory and the strategies they can use to avoid overloading students. The session was highly informative and reflective and Diana demonstrated practical implementation in the classroom.
Chloe Pakeman Schiavone, DoS at IH Pescara also focused on the mind with the balance between the conscious and unconscious mind. She spoke about encouraging learners to listen, look and analyse to decide what is important in their learning process. Teachers need to be critical when choosing materials and think about how these can benefit our learners, we cannot spoonfeed them but instead need to encourage their autonomy.
Then to focus on specific YL environments, we had Natalie Sabourin from IH British School Reggio Calabria reflecting on how to use pairwork with YLs and Ray Spiteri from IH Malta sharing his knowledge of YL summer programmes.
Natalie shared how pairwork can reduce anxiety and create an authentic need to communicate (encouraging progression and providing motivation). She highlighted what needs to be done before pairwork and what factors need to be considered with YL pairwork, as well as providing plenty of great activities and topics.
Summer programmes play an important role in YL teaching but can be daunting for schools that have little experience in the area. Ray Spiteri shared his own experiences of running a YL summer programme and top tips for success.
Giovanni from IH Rome closed the conference with a bang with his "Let's motto it up" presentation. It was a hoot with IH colleagues jumping at the chance to show off their acting skills.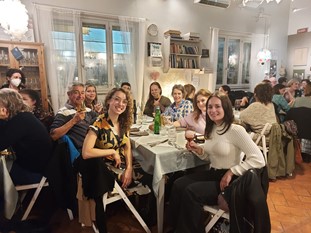 We commemorated the final night of the conference with a sit-down dinner at Casa Internazionale delle Donne, the International House of Women, an organization that works on promoting the rights, culture, knowledge, experiences and policies produced by and for women. It is a charity that helps women in need. Any extra proceeds from the meal went to the charity and their causes.
IH members can access the presentations from the conference on their member dashboard. 
The 2022 IH YL conference was a fantastic reminder to us all of how valuable the IH network is. Coming together with colleagues in a friendly environment and recognising how colleagues want to help each other by brainstorming and discussing ideas is truly what IH is all about. Teaching is about getting out of your comfort zone, challenging your ideas, moving with the times and adapting to your environment.